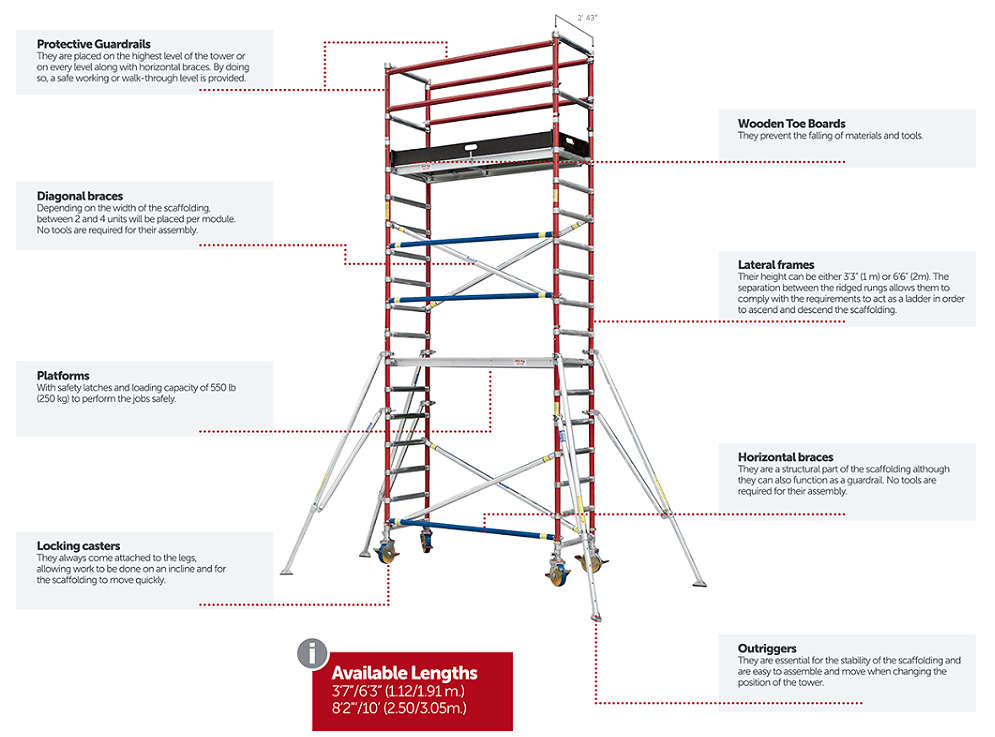 All of the components that ALUFASE scaffolding are made thoroughly designed and carefully manufactured to the highest safety standards that they receive top quality scaffolding. Each raw aluminum bar is tested is prior to be cut for assembly.
Aluspeed
Aluspeed range includes 300 and 400 model, Single or Double Width, and Aluspeed easy. All range could be combined with Standard Alufase
Scaffold for higher towers. It's compliant with Standard EN1004.  Provides a Heavy duty work platform which could be transported in a small van. Light and compact for easy storage and transportation Unfolds into working position in seconds. Easy access to different platform levels moveable with locking castors. Heavy duty work platform Compliant with EN 1004. 10 year Warranty
Ideal for:
Decorators, Plumbers, Electricians, Painters, Carpenters, Air Conditioning Installers, Sprinkler Installers, Plaster Board Fixers, Handy People, Aviation, Museums, TV Sets, and all Maintenance work...
Alubridge
The simple, cost - effective and safe solution for your Access requirements. Using just some standard components, the system is easy to install for the most demanding of locations.  Installation is quick and simple and thanks to the light weight,  you will save time and money in carrying and handling.
Ideal for:
Maintenance walkways, TV Sets, Construction sites, Roof access, Highways, Airports, Malls, Solar plants, Custom made catwalks, Suspended walkways, Pools, Theatre's, Stadiums, Factories, Power generation plants, Hospitals, Atriums...
 
Download: Alufase_assembly_instructions
Download: Alufase_cat_metric
Download: alufase cat Imp